I know it's a little late but I'm finally posting my pics from New Years! For some reason they're only showing up super duper huge. Sorry about that!
My friend Missie won tickets to see Pink in Vegas!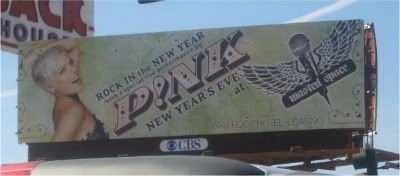 This was my first trip to Vegas and I'll admit that I wanted to take pictures of everything...like me with the m&m! (I don't know why I was sticking my butt out like that. hahaha) Be prepared for a few boring trip photos! But after those you can see all the good Pink ones!
Here we are in front of the Bellagio. Brad Pitt and George Clooney stood here during a few scenes in the Oceans movies!
I liked the Bellagio gardens but it wasn't as cool as everyone said they were. It was in a Christmas theme that was kind of cool. They had these giant presents that were covered in mirrors.
I loved the Paris casino, even though I didn't get lucky there. We ate at Mon Ami Gabi on the deck facing the strip. It was great for people watching and the food was amazing!
I LOVE Bobby Flay so I was excited to see one of his restaurants. We didn't eat there but being close to where Bobby stood was good enough for me (totally joking).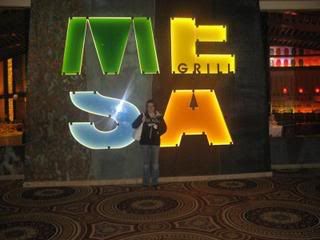 We sent a lot of time at the Hard Rock since that's where Pink's show was at. I was so excited to see the Depeche Mode stuff!
Ok...on to the big night!
Missie and Me before heading out. Don't worry, I did wear shoes.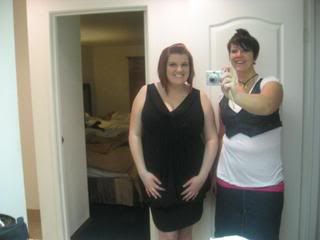 After waiting hours in line and then hours in the club, Pink started her show with the countdown at Midnight. What a great way to spend the first hours of 2009!
The show was at Wasted Space at the Hard Rock. WS is owned by her ex, Carey Hart. I had a bit of a crush on him so I was really excited when I saw him at the club. We shook hands and he asked how I was doing. I was pretty excited about that!
We only stayed one day, but it was fun and I can't wait to go back.
Vegas was sunny and warm and I came back to snow :(
Here is a pic I took a few days ago. I walk past this on my way to work, so I guess I can't complain too much about the snow since it's so pretty!
Other Fabulous Blogs


Sites That Inspire